Brent Crude Oil: general analysis | FX Signals
Brent Crude Oil: general analysis25
January
2017, 09:45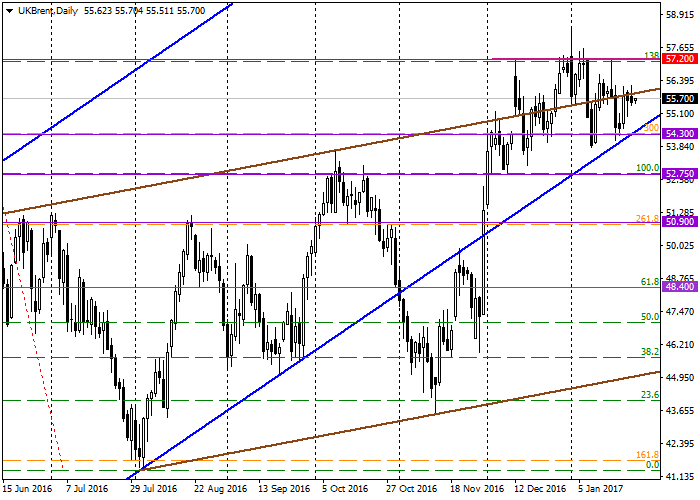 Scenario
Timeframe
Intraday
Recommendation
BUY
Entry Point
55.66
Take Profit
59.80
Stop Loss
55.20
Key Levels
48.40, 50.90, 52.75, 54.30, 57.20, 59.80
Alternative scenario
Recommendation
SELL STOP
Entry Point
54.00
Take Profit
50.90
Stop Loss
55.00
Key Levels
48.40, 50.90, 52.75, 54.30, 57.20, 59.80
Current trend
On Monday on the meeting of the members of the oil production limitation agreement it was reported that from the beginning of the agreement (January, 1) the oil production was cut by 1.5 million barrel per day, which is 80% from the target level. This is positive for the oil price, and also the price was supported by the fact that, according to the last reports of СОТ (Commitments of Traders), the "bulls" positions volume of the hedge funds was grown to the record levels with the expectation that the OPEC actions will bear desired fruits. However, according to the Baker Hughes data, the number of the active rigs in the USA is growing dramatically. Since May, 2016 the number of it grew from 318 to 551. The Baker Hughes US Oil Rig Count will be published on Friday (20:00 GMT+2). With such a controversial background the oil is trading in the narrow range between 54.30 and 57.20, which is narrowing in the upper part, which reflects the strength of the "bulls".
Support and resistance
Resistance levels: 57.20, 59.80.
Support levels: 54.30, 52.75, 50.90, 48.40.
Trading scenario
Open long positions at the current price with the target at 59.80 and stop loss at 55.20.
Open short positions if the price has lowered below the border of the daily channel from 54.00 with the target at 50.90 and stop loss is at 55.00.